All my life, I have called Kolkata home. And frankly, I love this city. It has everything. From the quiet nooks and crannies of South Kolkata to an old yet picturesque North, Kolkata has taught me that there's a place for everyone, no matter what you are, and where you belong.
Hence, whenever I was told about the greatness of the Calcutta Trilogy of Satyajit Ray, I was a bit apprehensive. I did not want to watch an indulgent take on a city I knew from birth. And I have heard few of these films were steeped a little bit too much in the political times they wished to portray. Pratidwandi, Seemabaddho, and Jana Aranya constitute what is now famously known as the Calcutta Trilogy of Satyajit Ray. To my surprise, despite being a modern day dweller, I found myself quickly settling in and relating to the Calcutta of yore. In this article, I will attempt to answer why those films have this effect even now.
While Pratidwandi is about a hero at crossroads, Seemaboddho talks about a man who made it despite all the madness. Siddhartha (the protagonist of Pratidwandi) and Shyamalendu (the protagonist of Seemabaddho) were polar opposites. One toiled day and night in the search for a job, while the other led a rather prosperous life.
Siddhartha's Calcutta was the one which scorched him with her sweltering heat, while Shyamalendu's city gave him the comfort of a car, an air-conditioned apartment, and luxurious restaurants. Both watched their cities burn in the flames of protests, student unrest and daily bombings, but their distance from that was interesting to note, and which, needless to say, made all the difference. Employing first time actors, Dhritiman Chatterjee (as Siddhartha) and Barun Chanda (as Shyamalendu), Ray merged the memory of the actor with the character, helping us get engrossed with their stories further.
The angsty Siddhartha could not afford a day's rest, for he had to earn money and earn money fast. After their father's demise, his sister was the only earning member of their family. Goes without saying, her employment was met with resistance. His younger brother, on the other hand, was ready to take up arms against the government and revolt against the systemic corruption that has led to the mass unemployment crisis. India was in its worst state during the 1970s. It needed a lot of time to heal from the tumultuous independence, instead, it ushered in new problems in the name of the rising of communism, the Naxalbari Movement, the Liberation War of Bangladesh and India's decisive role in it. The impact of the Cold War and the war in Vietnam reached Calcutta, along with the waves of Communism.
Around the same time, anti-aristocratic protests that broke out amongst the peasants of Naxalbari, an unknown village of North Bengal started spreading across West Bengal like wildfire, and soon took the shape of a pluralist radicalisation, where peasants to affluent students, everyone was mobilised. The 1971 Bangladeshi Liberation War was a result of the massive refugee crisis faced by India as around 10 million people fled East Pakistan to seek refuge in states of West Bengal, Tripura and Assam. All these factors detrimentally affected the political climate of Bengal enough for it to be incapable of providing education, and employment to its residents. Jana Aranya, the third film of the trilogy, explores this pathophysiology, maybe more succinctly than the other two.
Jana Aranya starts with a shot of an exam hall with graffiti plastered on the walls, and a hopeless invigilator staring on while the examinees openly cheat, following which they are marked in the most bizarre way possible by teachers, who were so underpaid that they could not afford to buy glasses for themselves. Somnath Banerjee, the protagonist of this movie, thus starts his search for a job which looks at the process more microscopically than Pratidwandi.
While Siddhartha doesn't find any solace at home, Somnath has a considerably loving family. He has a father who is always eager to look out for him, a caring sister-in-law and an encouraging brother. Somnath, hence, appears to be less dazed and confused than Siddhartha. When Siddhartha is offered jobs subpar to his intelligence he refuses to take them, while Somnath doesn't flinch. He carves himself a niche in the business of a middleman and owns it, while Siddhartha is quite resistant to taking up the job of a medical salesman.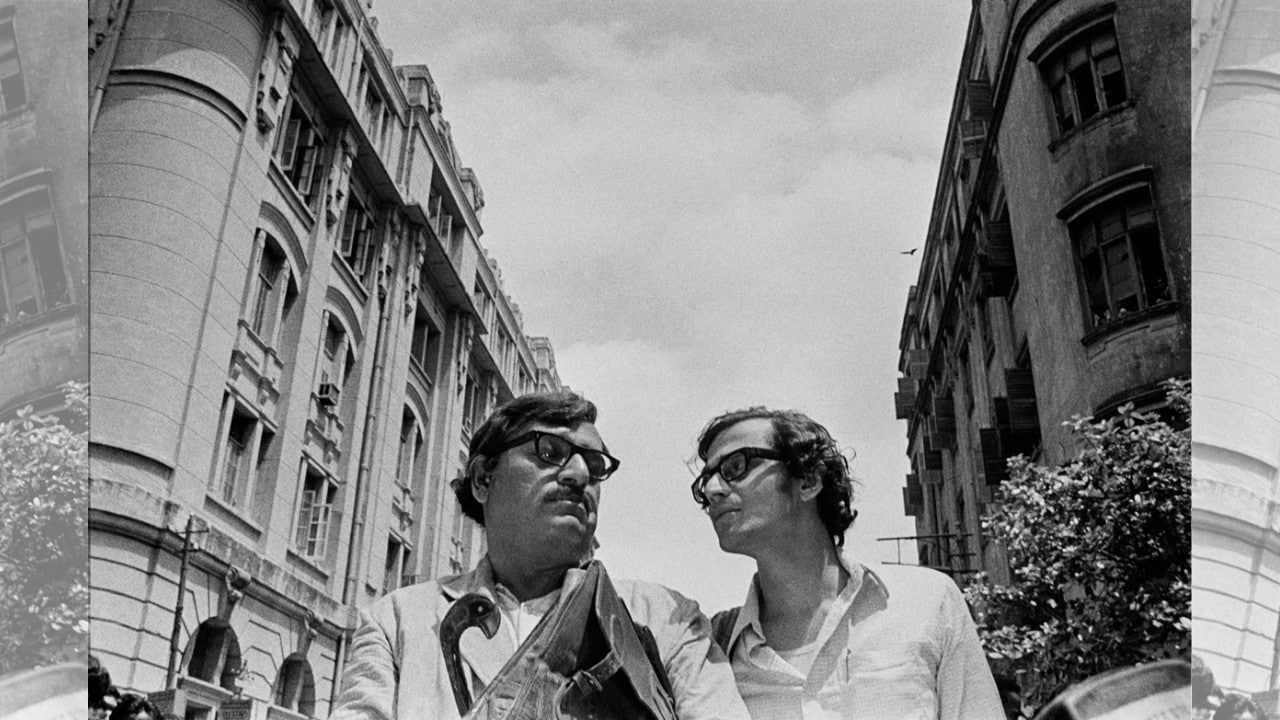 Shyamalendu, however, tastes success and enjoys every bit of it. However, he knows that growth doesn't stop and constantly wishes for a promotion. In the quest for the same, despite not wanting it, Shyamalendu ends up being the predator against the very people he was seen to sympathise with in rooms of discussion. Afraid to lose his illustrious job in the company of Hindustan Peters, Shyamalendu orchestrates a protest in the factory of the company. During this rigmarole, a gatekeeper gets fatally injured. New to this game, we find him quite perplexed only to be reminded of how this is a predictable by-product of games he ought to play to stay at the top. Although he gets the much-needed promotion, he falls in the eyes of the people he cared for, and possibly that meant far more than the promotion.
Ray's Calcutta was aspirational. It was a city everyone dreamt being a part of. Despite its political turmoil, it was the closest many felt to success. As Siddhartha lamented while lazing about in his previous hostel room(from the medical school he was forced to leave after his father's death), there was something about the city. Leaving it would make him almost feverish, but at the same time, the city is making it impossible to stay. The moral fabric of the city was seen to decay in several ways, throughout the three films. However, people still found a way to manoeuvre through it.
In conclusion, despite Calcutta Trilogy being set against a politically dense time period, it never stopped being the story of the humans who were a part of it. My heart ached to see my city in shambles, but it ached more to watch Siddhartha juggling around with opportunities, way beneath his qualification. Although I felt happy to see Shyamalendu and Somnath find success in the end, I was devastated to witness the extent to which they went to keep their jobs intact. Hence, these movies are a true embodiment of the saying "personal and political", and in filming them, Ray clearly exhibited his genius.