A lot of people love Satya and they all have their very specific reasons. Some mention their lives changing in a short span of two hours. Some hum Goli Maar Bheje Main to this date. But for us, it is Manoj Bajpayee's death scene. His Bhiku Mhatre is the standout act in the movie but as a candle's wisp being snuffed out, he is shot and the scene moves on. No deafening back-ground music. No slo-mo shot of him falling. Death and nothing more.
If you look at Indian cinema, the biggest crime thriller we have churned out is Deewar. Salim, Jawed Akhtar, Yash Chopra and Amitabh Bachchan changed the game. The fight sequences, the acting, the swagger. It was unmatched for a country that hadn't peered at itself deeply from a socio-politically lens. Because when it did, they just saw flames. But Deewar's iconic dialogues, over-the-top action, and larger-than-life hero were perfect for the anti-establishment 70's. It's formula was that it had stayed in touch with its time, but subsequent Indian filmmakers in the 80's thought that if they copied and exaggerated its best parts, it would work. Bloodshed, gore and sleazy humour replaced the power of the common man that Vijay had fought so hard for.
Then came Parinda and Satya. While Parinda was a lesson in realism for all of Bollywood, it was yet a movie that had cookie-cutter Bollywood romantic songs, an A-list star cast whose puckered lips and clean clothes bellied the fact that they were murderers. It was real, but it was yet a film that prided itself on being one. The beautiful candle-lit songs, the motif of pigeons dancing against the sky as gunshots pierced its mournful silence. Vidhu Vinod Chopra is an auteur, and it shows.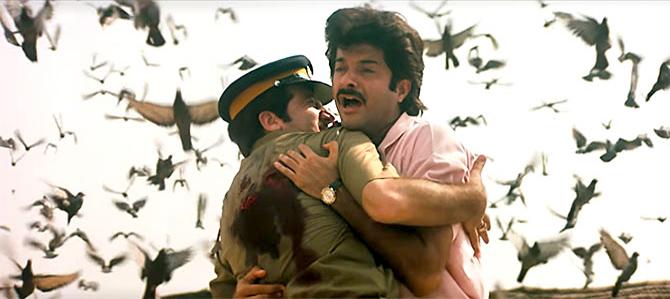 But in Satya, Ram Gopal Verma created a world so dreary, deadly, and damning, that showed the people of newly christened Mumbai, that Bombay hadn't been such a great ride. The gun shots, the deaths, the fear was only about the selfishness and greed of a few entitled men who saw a dream and broke it. The cast was propped on the clutch of a relatively unknown Manoj Bajpayee, immersing the audience in the world even more. This wasn't Anil Kapoor or Amitabh Bachchan, stars who you would next see at a glitzy film premiere in a shining tuxedo.
What's very curious is that these dramas reflected India's polticial state as well. They were rooted in reality as much as in fiction. Six months after Deewar released, a state of Emergency was declared in India. A few after the release of Satya, we detonated our first nuclear bomb in Pokhran. The films were essential in shaping our society. So how do the modern crime films match up against these classics?
Our favourite, and most underrated of the lot, is Mardaani. When it was first released, we were apprehensive. Was it just a comeback vehicle of a star who had shed the limelight? Or was it an actual exploration of Mumbai's seedy underbelly shown through a woman's eyes? It was a game-changer for the commercial movie-goer because it showed the world how it is. It's a hero's journey for Mukherjee's Shivani, as she battles the epitome of evil and saves a lot of lives. We root for her, just like we did with Amitabh Bacchan in Deewar.
Ugly, on the other hand, is sad. It's painful to watch the cops come to the centre of the conspiracy. For once, we did not want to find out how deep the rabbit hole goes. The cast, from the cops to criminals, is filled with actors rather than stars. It plays a role in detaching you from them as people who will succeed. From these two films, we can see that the trend of crime films getting a bit more realistic continues through this date.
Article 15 is another example of hard-hitting realism meshed with a fictional story. India has grown, and with the advent of the internet age, we are more aware than ever. So it makes sense the critically acclaimed movies are those that treat its audience as mature, intelligent and capable of witnessing the moral decay of the world around them. Because films, like art, are a mirror to our society, and what motivates humanity better than greed and violence?