Something that has always bothered me is the seemingly ubiquitous perception that all animated films are made and meant exclusively for children. Sure, adults can watch and even enjoy them, but they represent a lower or perhaps more childish form of entertainment in the popular imagination. One that can't really be compared to the mighty tradition of live-action cinema. When we think of impactful films, we think of The Godfather and Pulp Fiction, not Disney's Frozen. Right?
Well, no. For starters, I think it's high time we reimagine and revise the canon of what "good" cinema is (and isn't), but that's a conversation for another day.
This year at the Oscars, Amy Schumer made a joke along the lines of having to endure Encanto 190 times because she has a toddler, and later Lily James spoke about how "So many kids watch these movies [referring to animated films] over and over," to which Halle Bailey added, "and over and over and over and over and over" insinuating that animation is something unpleasant that adults must put up with for the sake of children.
Perceptions like these are painfully reductive and blatantly untrue. Not only are many animated films made for mature audiences but even the ones that are apparently "for children" can resonate deeply with people of all ages and backgrounds. Like Encanto itself, which deals with generational trauma, or Inside Out - a film being used by psychology professors around the world to teach students about how emotions really work.
Animation represents an entirely unique mode of storytelling that's limited only by the imagination of its creators. It's been around for over a century and has spanned multiple genres, themes, techniques and styles. And while there is nothing wrong with calling a film "cute" and leaving it at that, I think we should afford animated films the same basic courtesy we afford all other films, and at the very least discuss them. Analyze them both thematically and technically. Seek out lesser-known ones and recommend them to people. Avoid reducing something so vast and multifaceted to a single age-bound category. Animation is much more than a footnote in the rich legacy of cinema.
So, in the spirit of celebrating animation, here is a list of films that I personally love, and would recommend if you're looking to broaden your horizons, or even if you're just looking for a good film to watch. Some are appropriate for kids, and some are not, so viewer discretion is advised.

Mary and Max (2009)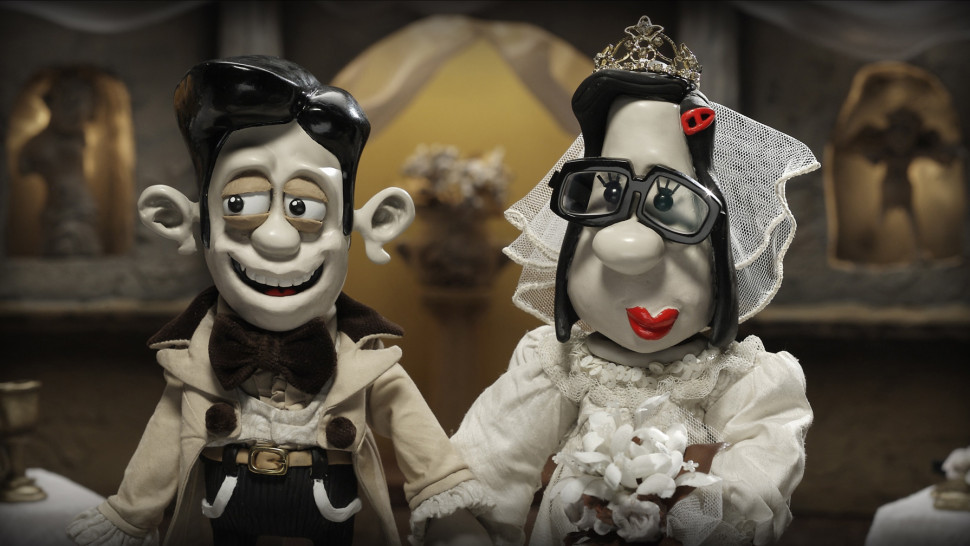 Mary and Max is a 2009 claymation film, written and directed by Adam Elliot about an unlikely friendship between an 8-year-old girl in Melbourne and a 44-year-old Jewish Man in New York City. When I first read the synopsis, I was very excited to watch what I believed would be a heartwarming tale of friendship, hope and the wonders of letter writing. And while it was all of those things, it was also much more than that.
The very core of the film is an exploration of loneliness. Mary and Max are both misfits, who find solace in each other, but unlike what you would expect from an animated film, their friendship doesn't miraculously fix their lives. There is no rosy montage or encoded moral. There are ups and downs, some truly dark moments, and a very nuanced depiction of what the world looks like to those who can't understand it. Watch for some hilariously human moments, a lovely narrator, a fun score and the best representation of Asperger's Syndrome I've ever seen in cinema.
Coraline (2009)
Coraline, based on Neil Gaiman's book by the same name, is a stop-motion animation film about a young girl who discovers a secret passage to the Other World- a reverse-image version of the real world.
Director Henry Selick ( who also directed The Nightmare Before Christmas and James and the Giant Peach) took four years to complete the film because even with twenty-nine full-time animators, only 90-100 seconds of footage were produced per week. (For perspective, the final film is a hundred minutes long!)
What made me fall in love with Coraline, other than the truly magnificent labour of love that it represents, is the character of Coraline itself. I found something all too familiar in her desire for adventure and resentment towards the mundane realities of life, specifically those imposed on her by her family. Her dark, fantastical journey of self-discovery through an Alice-in-Wonderland-esque quest, had me laughing, crying and marveling at the art of storytelling.
My Life as a Courgette (2016)
I'm sure you can tell by now that I have an affinity for stop-motion animation, but even I could never have predicted how much of an emotional punch this movie would pack. My Life As a Courgette is a powerful French-Swiss stop-motion masterpiece based on Gilles Paris's book Autobiographie d'une courgette. The film is about a boy who is sent to an orphanage after the death of his abusive mother. Courgette struggles to find his footing but with the support of a police officer named Raymond and some new friends, he slowly learns to trust again.
The film doesn't gloss over or oversimplify the realities of abusive households. In fact, themes of abandonment, neglect and grief are an omnipresent reality in the film. But it handles the topic with tenderness and compassion, ultimately weaving a tale of solidarity, hope and love.
Persepolis (2007)
Persepolis is an autobiographical, mostly black-and-white animation based on the life of the author and filmmaker Marjane Satrapi. It's a coming-of-age story set against the backdrop of radical political changes in Satrapi's homeland. As Iran grapples with the shift from the rule of the Shah to a revolution to the rise of an oppressive Islamic state, the young Nike-wearing, punk-music-loving Marjane is forced to subdue her mischievous and animated spirit.
This film took me by surprise with its often humorous and reflective tone. All through Satrapi's narrative, both in Iran, as well as a student in Vienna, the impact of political realities on her identity, become apparent. The personal and political overlap and intertwine here in such interesting ways, creating a story that I found to be both authentic and moving.
Wolfwalkers (2020)
From Cartoon Saloon (a studio that absolutely belongs in the ranks of Pixar and Ghibli) comes a profoundly comforting old-school Celtic fable about magic, sisterhood and courage. The film is partially based on the English colonization of Ireland in 1650 and follows a young and ambitious Robyn who travels with her father to wipe out the last of the wolves in Ireland. However, an encounter with a young girl Mebh changes her perspective on everything.
Being almost entirely hand-drawn, the animation felt so much richer and brighter than any other film I've watched. Every frame was a work of art. The subtext of conservation also runs through the film beautifully, with its emphasis on the human connection to nature. Wherever there is magic, wildness and oneness with nature, you can be certain that colonial forces are not far behind, fully ready to sever this connection with their "civilizing" projects.
The magic lives on now only in folktales and fables and of course wonderful films like this one.
Sita Sings the Blues (2008)
Whatever you think this movie is going to be like, you are wrong. You've never seen anything like this.
Nina Paley's Sita Sings the Blues is a retelling of the Ramayana layered with her own story of being dumped in the 21st century by email when her husband moves to India. It's hilarious and unapologetically weird. Different animation styles and techniques (computer animation, chicken-scratch comic-strip drawings, rapid-fire photo collages) are mixed to create a disorienting yet charming assault on the senses.
Now I love a good subversion of mythology as much as the next girl, but this takes it to a whole new level. Featuring jazz songs by the 1920s singer Annette Hanshaw throughout the film, an impossibly curvy Sita sultrily croons "My Man Don't Love Me No More" when Rama abandons her, while shadow puppets break in and offer critical commentaries through the film. The whole thing is on Youtube!